Fremont Town & Country Path
Newaygo County's only paved biking trail is the Fremont Town and Country Path which starts at the north end of the Fremont and circles around Fremont Lake Park.  This path is great for a family hike or bike ride of all skill levels.
This Pathway is part of a county-wide project to build over 80 miles of connected, paved pathways for walkers, runners and cyclists that will eventually connect 12 communities.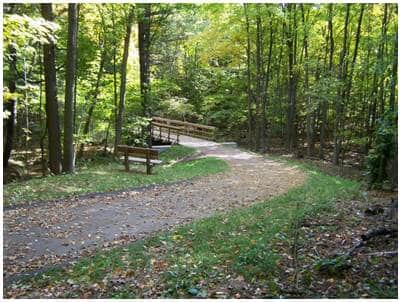 Trail Details
Distance: 5.5 miles
Challenge Level: Beginner
Activities: Hiking, Biking
Trail Features
Downtown Fremont
Downtown Fremont offers a great spot to start your exploration with ample parking. After your day on the trail, take time to refresh and refuel at one of many restaurants and browse quaint shops and specialty stores.
Branstrom Park
Branstrom Park on the Fremont Town & Country Trail is disc golf park featuring scenic views, a challenging course with 3 water crossings and many elevation changes. Why not add disc golf to the itinerary of your trail adventure?
Agriculture has long been a staple of the NewayGo County economy. One reason why Gerber Baby Food put the area on the map was because of its relationship with local farmers.  You'll see the same focus on agriculture and locally produced fruits and vegetables at...
read more