Explore the winter wonderland of Newaygo County.
Snowmobiling routes are abundant throughout the county and connected trails offering more than 100 miles of continuous riding on trails with amenities geared toward a great day on your sled.
No need to venture all the way up to the U.P. for an ice fishing weekend, come to Newaygo County and enjoy our pristine waters and big fish!
Don't let the winter months dampen your cycling enthusiasm. Newaygo County takes winter warriors to the next level with trails perfect for fat tire biking.
Take a scenic glide through the wintery wonderland of Newaygo County. Grab your snowshoes or cross-country skies and take to more than 75 miles of trails and almost 5,000 acres of natural areas ready for winter exploration.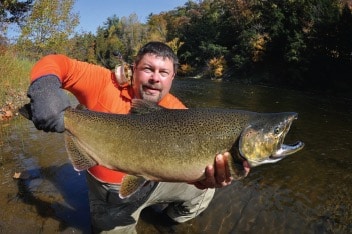 The forests and rivers of Newaygo County are a magical outdoor wonderland where nature is on display year-round. The dense Huron Manistee National Forest, the rivers, lakes and streams -- all spring fed, produce some of the most amazing trout, steelhead, and salmon...